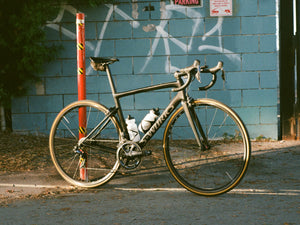 Gear Porn: The Galactic Tarmac Work In Progress
A remix of psychology reverberates in my mind: now not later, work is never done, eighty-twenty. While my philosophy grows daily these have never been my strong suit. I'm inclined to the rabbit hole, deeply descending until I've lost sense of time and space. It's not a persuit of perfection. To the contrary, it's only seeking something good—but what's ever good enough?
In the case of my daily ride, a Spesh Tarmac SL6, any set of round wheels and handlebars will do because the geometry and materials are simply on point. The paradox of gear is that minor details make an impractical difference relative to the time and cost considerations, yet they make a tangible change, while often subtle, to the experience of riding.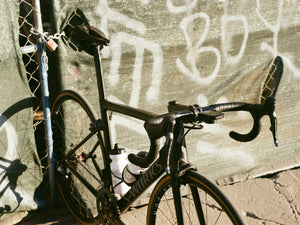 Some time last year I had the opportunity to test an "entry level" Pinarello with mechanical 105 hydro, carbon frame, etc, and what struck me was how fun it was! Throwing a leg over the Tarmac and pedaling home I felt distinctions, but were they relevant? Actually no, which leads me to suggest that all bikes are good if they fit, roll straight, and stand up to playful abuse.
Despite awareness a siren's song for the detail appreciative calls. It's been four years since acquiring the way-too-nice frameset with the help of friends at Specialized AU, Studio De Velo, and our blessed mate Poul whom we miss dearly. Now in it's fourth configuration, my Tarmac is still a work in progress and the kilometers have ticked past 55.000—time rides?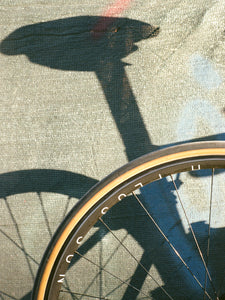 Before revealing set ups for the interested it might be helpful to qualify what I'm looking for in the first place. After all, how could it take so long to dial things in? My personal style and approach to bicycles haven't changed much since the first ride: black is best, nature is metal, and more is more. About ten years ago I discovered cycling and naturally collected distance and elevation en masse—at least until this year when other priorities need more space to flourish. All good, it means the bike is subjected to intensity as time allows, unless it's a no pressure sunshine ride with the springtime muse.
My first adventures with the Tarmac wandered Brisbane's hinterlands, a wonderland of chip-sealed rollers between short, steep climbs. Elevated by the Aussie athletic lifestyle and inspired by the bounty of nature, the days were happily spent going as far and fast as I could. It was heaven for my more-is-more personality. Craving some Oreos? Lets head over Mt Mee to Woodford to be back for happy hour at Zero Fox. When relocated to my hometown of Los Angeles I pushed further still: one million feet of elevation in a year? Almost! Random Everesting? Yes!! NOW Ride with extras, Mt Dissapointment-Son-UBT on weekday mornings, Circle of Doom both ways, and and and? More more more!
If I have any ability it might be durability. Once you're over 200km comfort and gear increasingly matter: it only takes some rubbing, a dropped chain, or repetitive noise before you're distracted from peaceful flow! Combine flexible work life, the resources others would prefer to spend on a car, aesthetic of a designer, and an appetite to discover one's limits… It's a pleasure and priviledge seeking mind-body-machine harmony.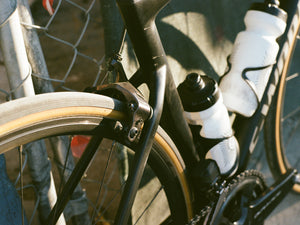 The SL6 has been perfect from day one. I suspect most modern race bikes are enjoyably fast and humbly suggest this one is particularly comfortable. The marketing jargon focused on "rider-first engineering" post Spesh's acquisiton of Retul, whose historical fit data revelead, surprise, that men and women end up with similar riding positions. They brought the front-center up and in then dropped the stays for more seat post compliance. Plus the beatufiul evolution of direct-mount rim brakes which never had the chance to shine; plus a lightweight platform with aero cues? That's a fine bike all right!
More than a few builds blessed this all-rounder, evolving from mechanical die-hard to carbon-carbon super-carbon and beyond. It was first set up with mixed Campy Chorus and Record which had great feel but needed too much attention. The cockpit has always been Enve road, 40cm, which I'd like to swap down to 38 when I next run fresh brake cables. Somewhere along the way I changed paradigms to Shimano DI2 and wish it happened sooner. For an idiot like me it's more reliable plus you can shift under load to your heart's content (though it's not suggested, and timing is a skill to refine just like clipping in).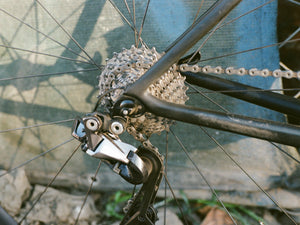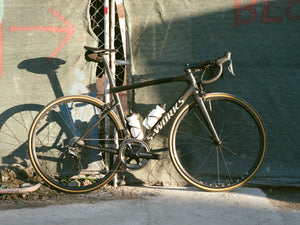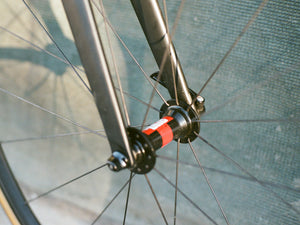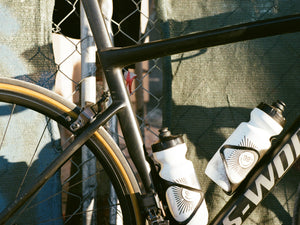 I took care wearing through parts and experimented most in the drivetrain, originally starting on a compact chainset with 170mm cranks. As my need for speed increased I swapped to mid-compact and now my preference is standard 53/39 and 172,5mm. What can be said, bigger is faster and more efficient when you're turning it over? Shimano's 11-30 cassettes offer a wide range but the jump from 24-27-30 never felt right. I settled on the 11-28 for rhythm with utility on my beloved steep roads.
Wheels changed as well: it rolled on first generation Enve 3.4s laced to DT240s which were awesome, super snappy. Then gen 2 4.5s with Chris King R45s for a speed boost, also great but temporarily hung up after 30.000km of fun. I applaud their resilience to clipping most pot holes (caves?) around LA and have no complaints with the weight-to-speed tradeoff while the market progresses to lighter ultra-wide options. When I'm up for making noise again the hubs and rims will need service to freely dance.
Now I'm contentedly riding on quiet aliuminum H+Son Archetype rims and DT240s assembled by our pal Jones in Santa Barbara. I regret to write he's another thoughtful soul who's passed on after a life spent amplifying happiness with attentitive builds. It's been a tough few years for everyone. To be fair there's never a shortage of sadness happening alongside the joy of this world, but that's a beautifully complex topic for another time. I hope you're riding easy friend, and Poulie too.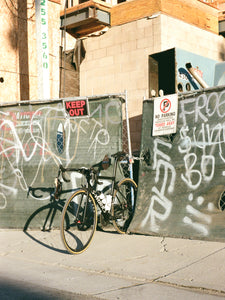 After all these configurations and kilometers my desire is minimalist happiness, an inspired philosophy from my spirit brother and BBUC collaborator Christian. There is almost no sound when the bike is running (or stopping). It's pure bliss! There are hardly any distractions from escape to world within. I use an ultrasonic cleaner for the moving parts and keep the rest tidy: a reflection of "real life" and longevity ritual for the machine I love. The small details of care, proficient operation, and moving with souplesse enrapture my attention like gear once did.
I'm riding less and more at the same time, immersed in the changing scenery from LA to Vienna. It seems the biggest work in progress is not the build that comes next but rather evolving ambitions with lessons from those around me. The numbers are fewer yet the fun grows exponentially.